PTO Genius for Employers
Minimize Burnout, Increase Engagement, and Improve Employee Wellness
Research has proven that taking time off from work improves health and productivity. But more than half of employees don't use all of their paid time off. PTO Genius is changing that.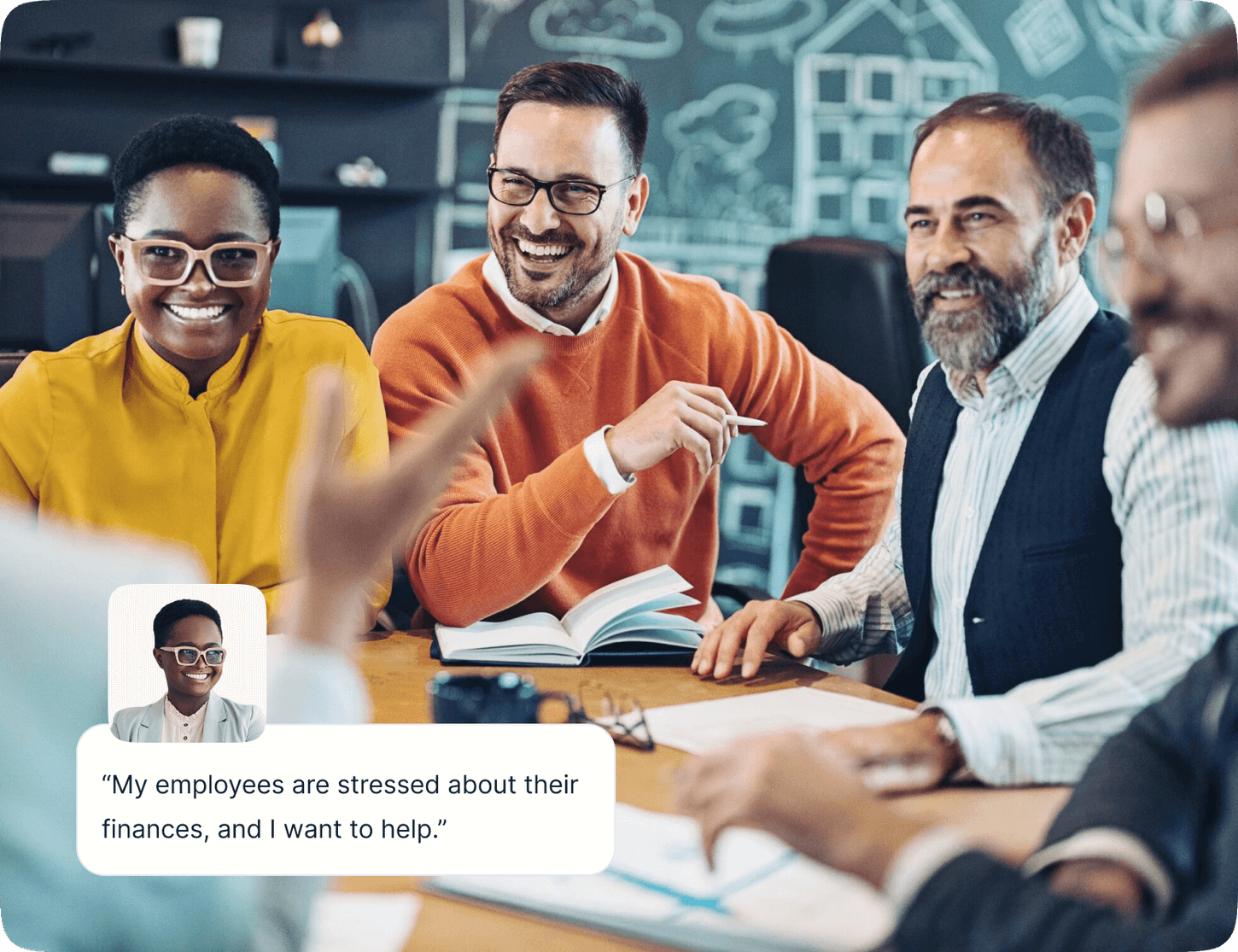 Improve your employees' financial wellness
Employees can use PTO Genius to convert their extra paid time off to retirement or health savings, pay down student loans, or cover unplanned financial emergencies.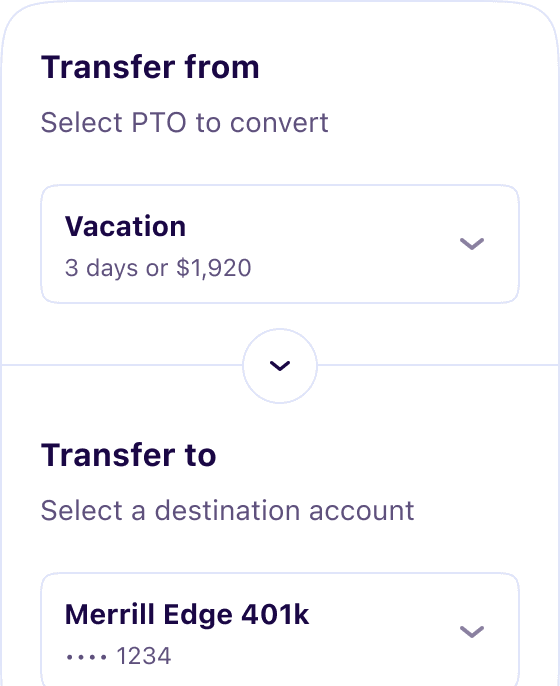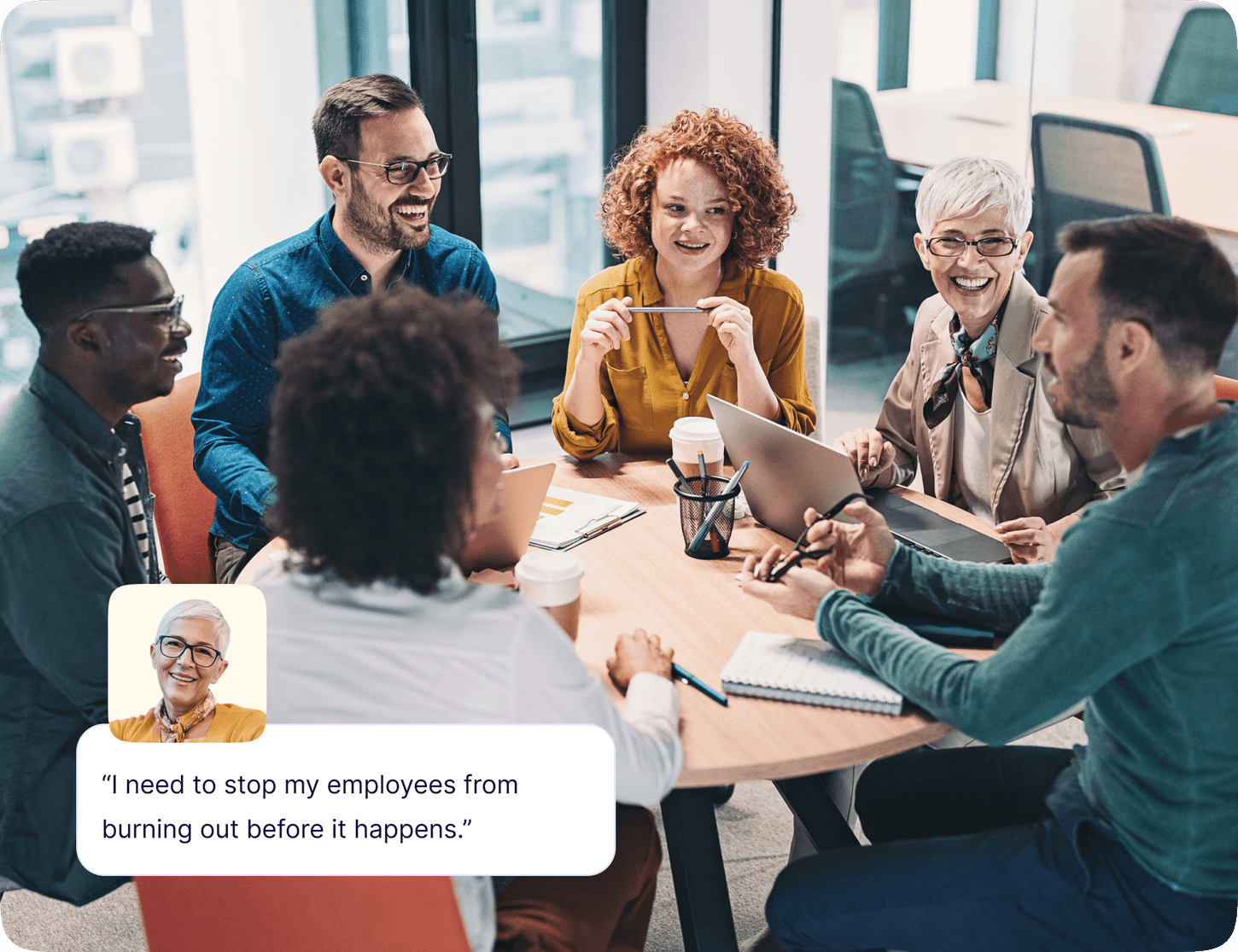 Break the burnout cycle once and for all
PTO Genius monitors and identifies employees at risk of burnout, then nudges them take time off and proactively alerts you to help stop burnout before it happens.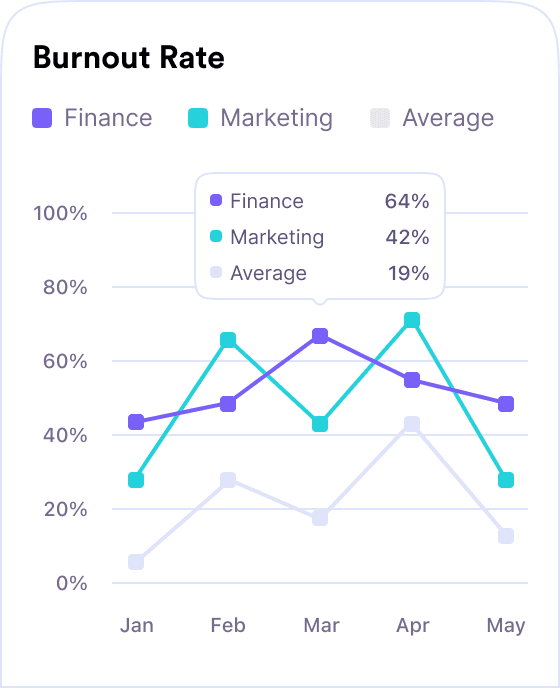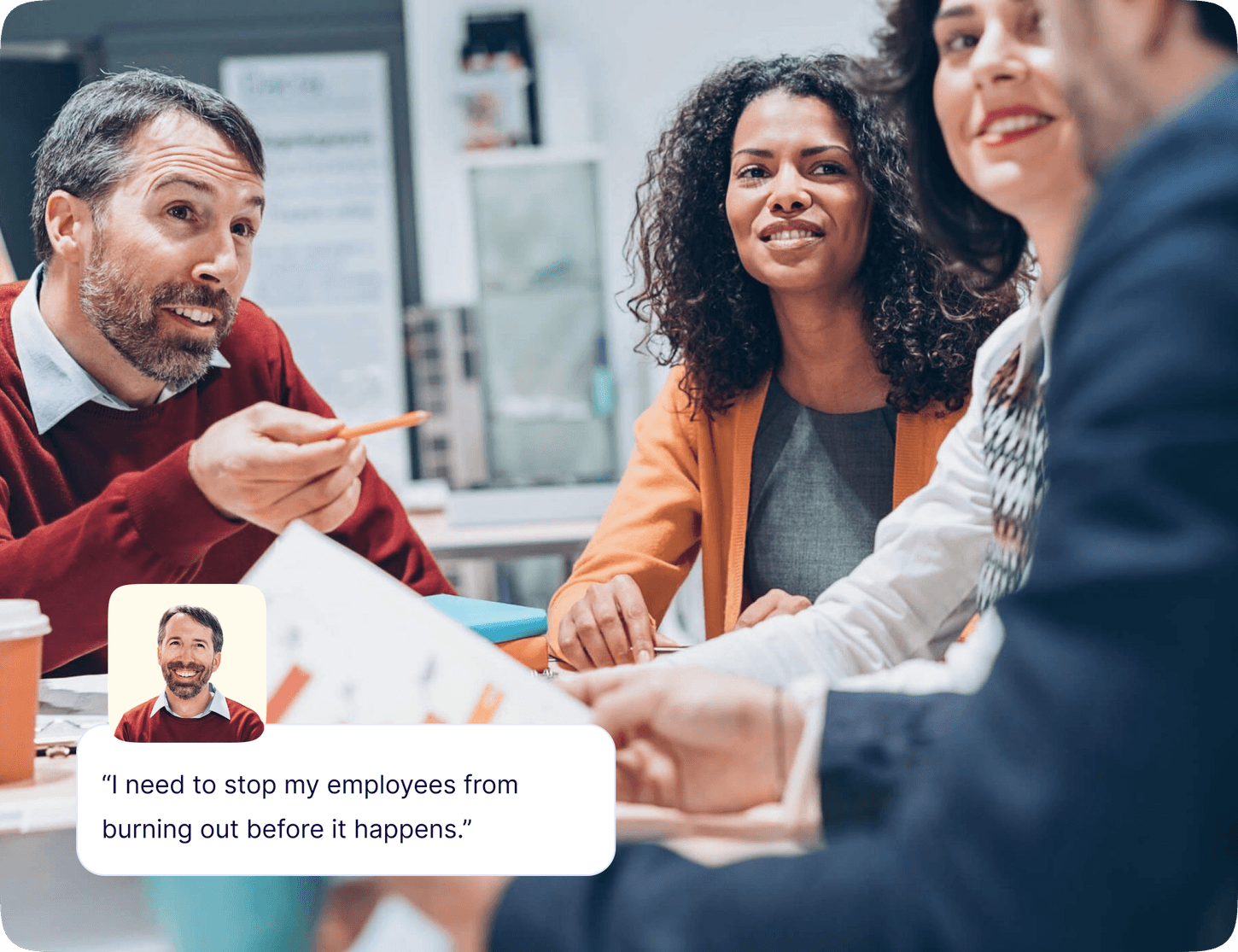 Help your employees take more time off, guilt-free
PTO Genius gently nudges employees to take time off and surfaces the best times to get away without impacting their team, so they can disconnect without feeling guilty.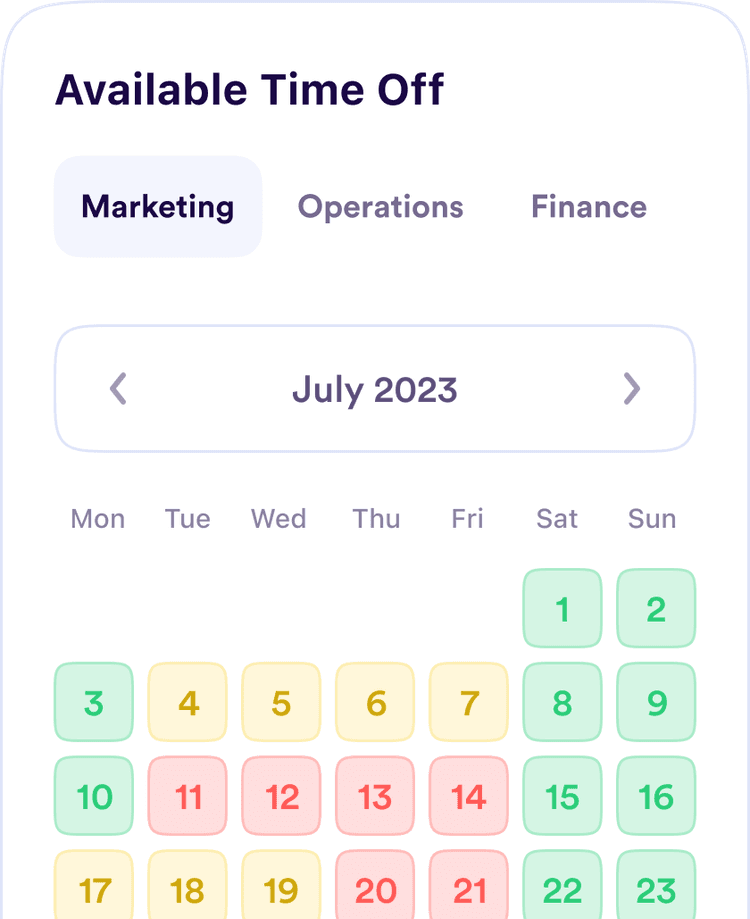 It's Time to Do More With PTO – A Lot More
Improve employee wellbeing and work-life balance while lowering your organization's PTO liabilities by giving your employees new, flexible ways to use their paid time off.
Lower Stress
Alleviate your employees' stress by empowering them to transform their extra PTO into financial security.
Boost Financial Wellness
Offer your employees a responsible alternative to predatory pay-day loans, late fees, and overdrafts.
Improve Engagement
People are more focused and productive at work when they aren't worrying about their finances at home.
Reduce Liabilities
Lower your financial risks associated with unused paid time off by slashing your accrued PTO balances.
Platform Features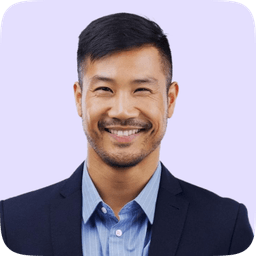 I'm spending so much time answering the same questions about our PTO policies and providing tech support.
Save time and headaches managing employee time off
Employees and managers request, approve, track and manage all of their own vacations, sick leave, and other time off through a modern, intuitive interface that surfaces all the info they need.
Engagement

Job Satisfaction

Employee Burnout

Accidents & Attrition
Sign Up For Free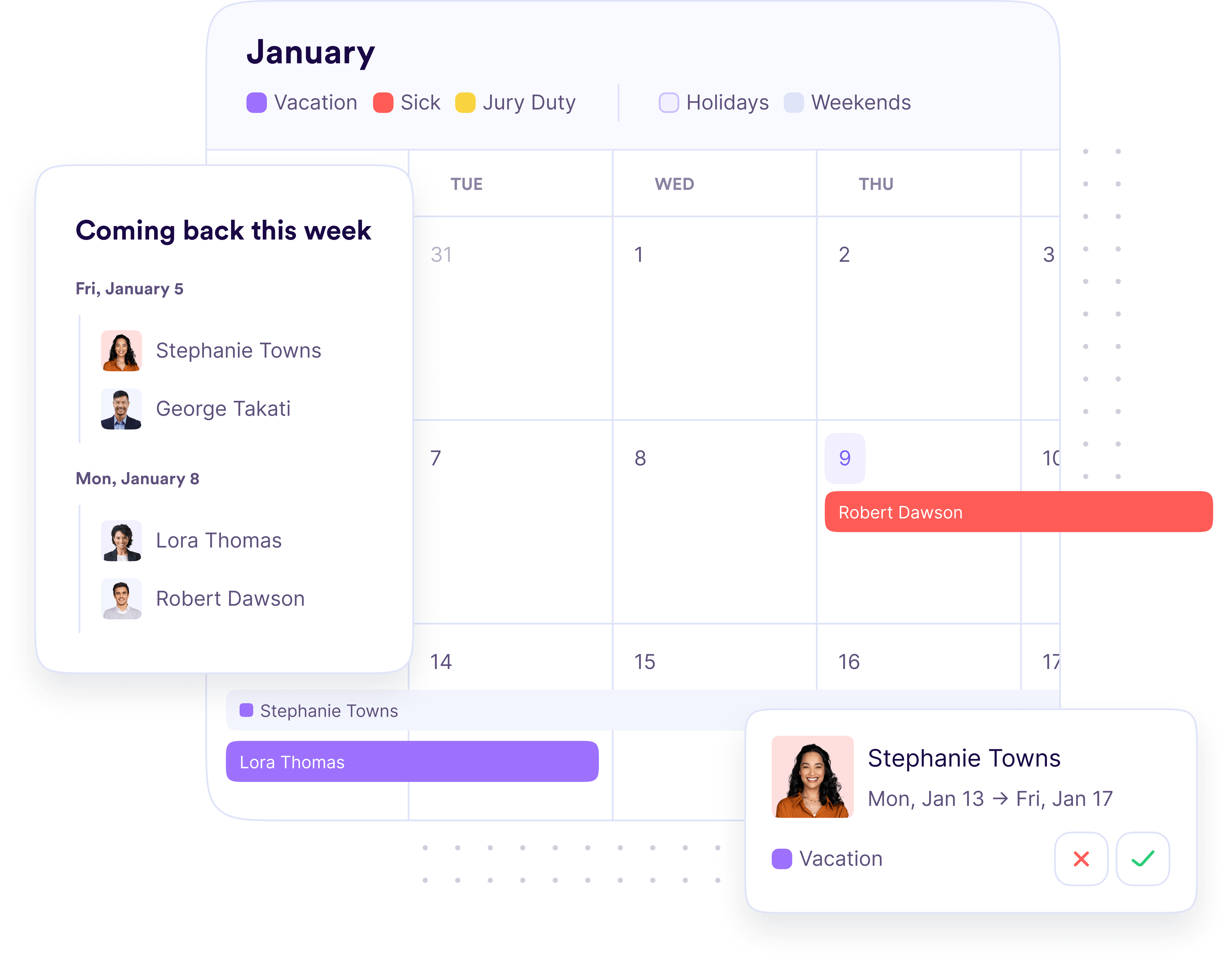 Employee Wellness Solutions
Easily mix and match our tools to build a tailored solution to your specific concerns: from high employee turnover and absenteeism, to low PTO usage and job satisfaction, and beyond.
Your Solution
Help your employees take more time off, give them new ways to use their PTO benefit, and gain deep new insights into employee burnout, engagement, and PTO-related liabilities.
Help Employees Recharge

Employees can find and book great deals on incredible vacations that leave them feeling relaxed and refreshed, all in PTO Genius.

Reduce Student Loan Stress

Employees can pay down their student loans faster by converting extra accrued PTO hours, reducing their stress and improving their focus.

Increase Health Savings

Employees can convert extra PTO hours to top up their health savings account, to help pay for healthcare whenever they need it.

Promote Guilt-Free Time Off

PTO Genius analyzes and recommends the best times for employees to take off without impacting their teammates, so they can truly disconnect.

Improve PTO Usage

PTO Genius helps employees make more use of their PTO benefit and gives you deep insights into how employees are (or aren't) using their time off.

Boost Retirement Contributions

Employees can use extra paid time off to help fund their retirement by converting PTO hours directly into 401k or Roth IRA contributions.

Encourage College Savings

Employees can invest in their childrens' future by converting extra PTO hours directly into 529 college savings plan contributions.

Give Financial Peace of Mind

Employees can get instant access to cash whenever they need it, without predatory fees or interest rates, by converting some of their extra PTO hours.

Break the Burnout Cycle

PTO Genius proactively monitors and alerts you to employees all along the burnout journey, from "Engaged" through "Ineffective" to "Burned Out".

Lower PTO-Related Liabilities

PTO Genius calculates and surfaces your organization's PTO-related financial liabilities, so you can quickly take action to mitigate this risk.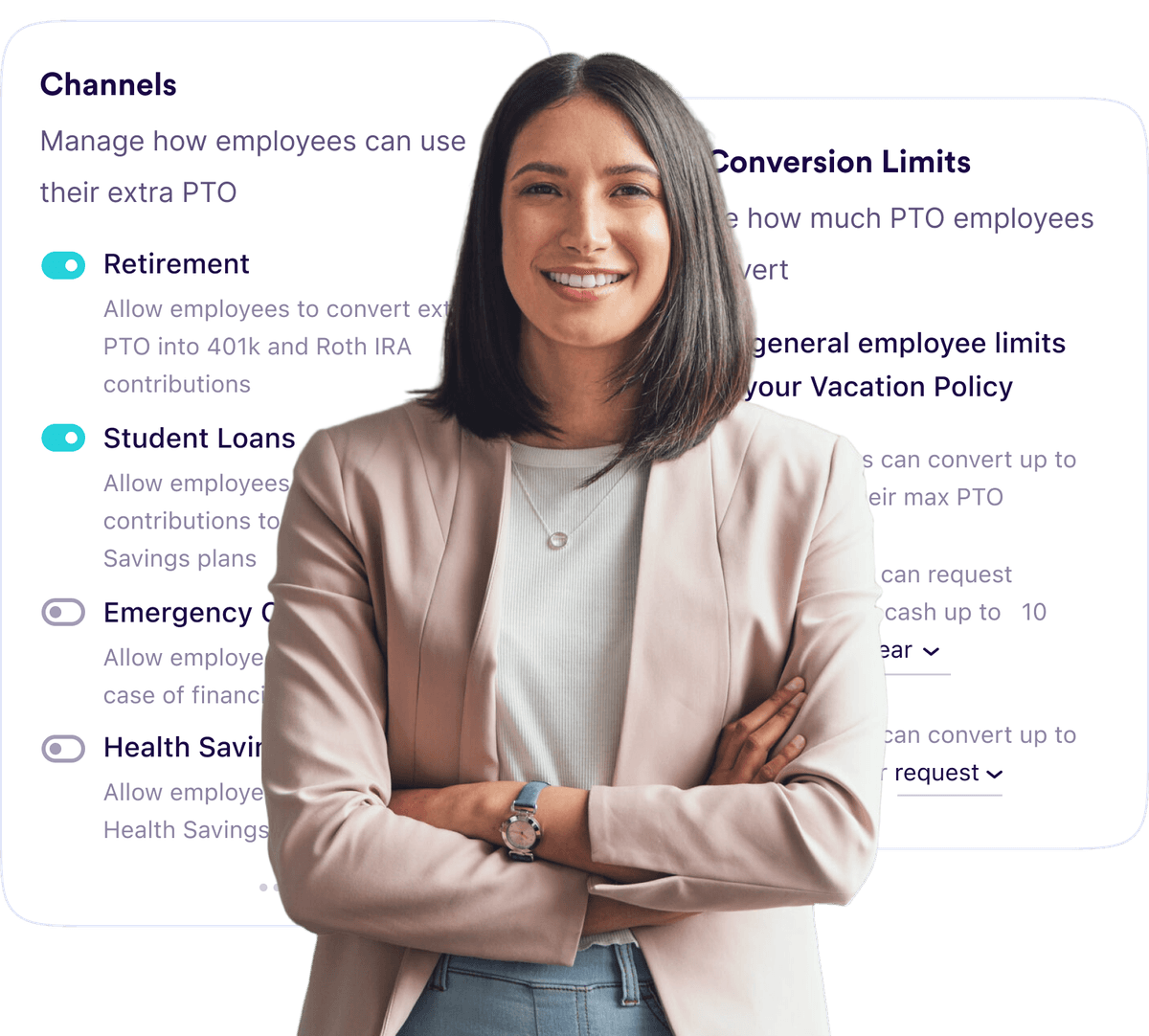 Fully Customizable
Our platform adapts to your PTO policies and helps you achieve your HR goals. Easily enable and disable features, set rules and guidelines around their use, tailor notifications, and more.
Manage PTO payout

Toggle the channels employees can use for PTO payout based on your policies and priorities.

Establish rules and limits

Choose which features to enable for employees, then set rules and guidelines around their usage.

Set up alerts and notifications

Decide which notifications go out to employees, including proactive nudges to take time off.
Sign Up For Free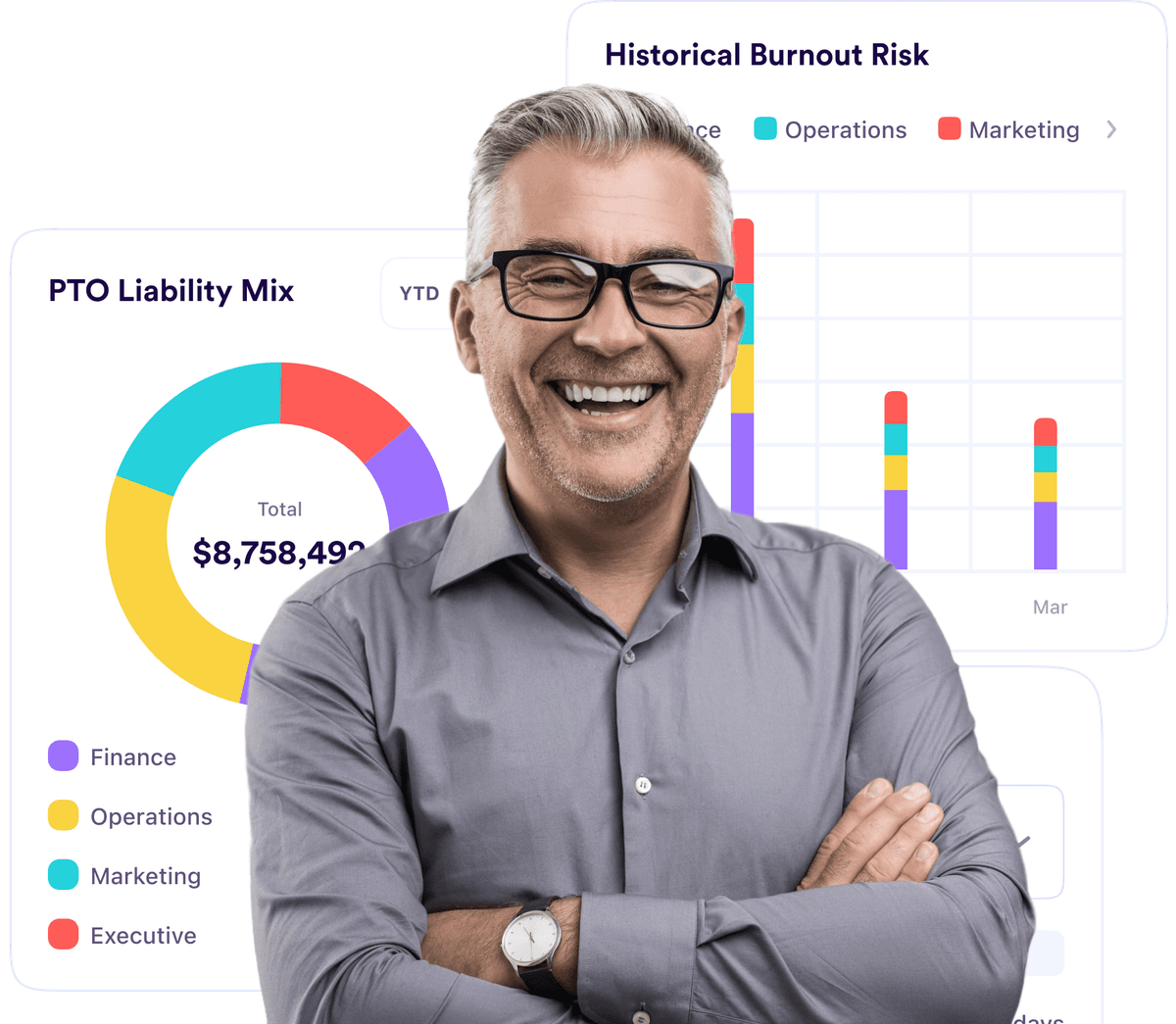 Reporting & Insights
PTO Genius delivers new insights into employee wellbeing and engagement, PTO usage, and your organization's financial liability through powerful analytics and intuitive dashboard reporting.
Burnout journey monitoring

Dive deep into employee burnout with break-downs by employee, manager, department and location.

PTO usage

See how employees are (or aren't) using their paid time off for vacation, sick time, and PTO conversions.

PTO liability analytics

Uncover the true extent of your financial liabilities associated with time off, including their sources.
Sign Up For Free
Small Business
Improve work-life balance and show your employees that you really care.
What makes a small business thrive? When your employees love where they work.
But for small businesses, work-life balance is a constant struggle: everyone has to do more with less, creating pressure to avoid taking time off. It's hard to attract candidates when you can't compete with enterprise giants' perks. And when your employees are stressed about their finances, they simply can't do their best work; financial stress is a major contributor to disengagement and burnout.
With PTO Genius, you can show your employees that you truly care by improving their work-life balance and giving them new ways to use their time off – in turn helping to reduce burnout, improve engagement, and increase job satisfaction.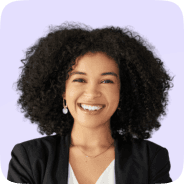 As a small company, we really care about making our employees feel happy and supported at work.
Improve Employee Wellness

Reduce Employee Burnout & Stress

Help Employees Take More Time Off

Attract & Retain Quality Candidates

Increase Engagement & Satisfaction
Fast, Personalized Implementation
We tailor our platform and your experience to your PTO policies, technical resources, and HRIS.
1 - 2 weeks
Low Integration
Best for companies with limited API functionality in their HRIS.
Partial integration with your HRIS

Near-time reporting and insights

Quick start, low effort
4 - 12 weeks
Full Integration
Best for companies that want the full capabilities and benefits of PTO Genius.
Full API integration with your HRIS

Bidirectional syncing and updating

Real-time reporting and insights
Supported Integrations

ADP Workforce Now
ADP Workforce Now is a flexible, integrated HCM solution that supports the full spectrum of HR needs from recruitment to retirement and more.

Bamboo HR
Bamboo HR is an all-in-one HR platform for small and medium businesses that helps automate, centralize, and connect your people data all in one place.

iSolved
iSolved transforms the employee experience through a people-first human capital management (HCM) solution with payroll, HR, benefits, and time management.

Paychex
Paychex is a leading provider of integrated human capital management solutions that combines innovative SaaS technology with dedicated, personal service.

Paycom
Paycom offers online payroll services and HR software solutions for both big and small businesses to manage the entire employment lifecycle.

Paycor
Paycor's unified human capital management (HCM) system ensures employee data is in one place, empowering leaders to build winning teams.

Paylocity
Paylocity's web-based payroll and HCM solution helps small to large enterprises cultivate a modern workplace and improve employee engagement

Prism HR
PrismHR is a complete HR Software solution for PEOs and ASOs that lets you manage payroll, benefits, compliance, and HR for your clients in one place.

Rippling
Rippling's workforce management platform lets you easily manage your employees' payroll, benefits, expenses, devices, apps and more, all in one place.

SAP Success Factors
SAP SuccessFactors HCM Suite is SAP's SaaS human resources solution that offers individualized experiences and strategic solutions.

UKG Pro
UKG Pro is a powerful HCM suite that combines powerful HR technology with robust payroll functionality and deeper workforce management capabilities.

Workday
Workday offers cloud solutions for managing the full lifecycle of human capital, including recruiting, performance management, benefits administration, training and more.
Frequently Asked Questions
Do More With Your PTO – A Lot More
PTO Genius helps you take more time off and enables you to convert some of your paid time off into cash and non-cash benefits like retirement savings, based on your own needs and priorities.

Meanwhile, we help your company's HR team understand how and why employees like you burn out, so they can help you and your colleagues feel less stressed and more satisfied with your jobs.

Companies like yours use our platform to improve your financial security, mental well-being, and overall work-life balance.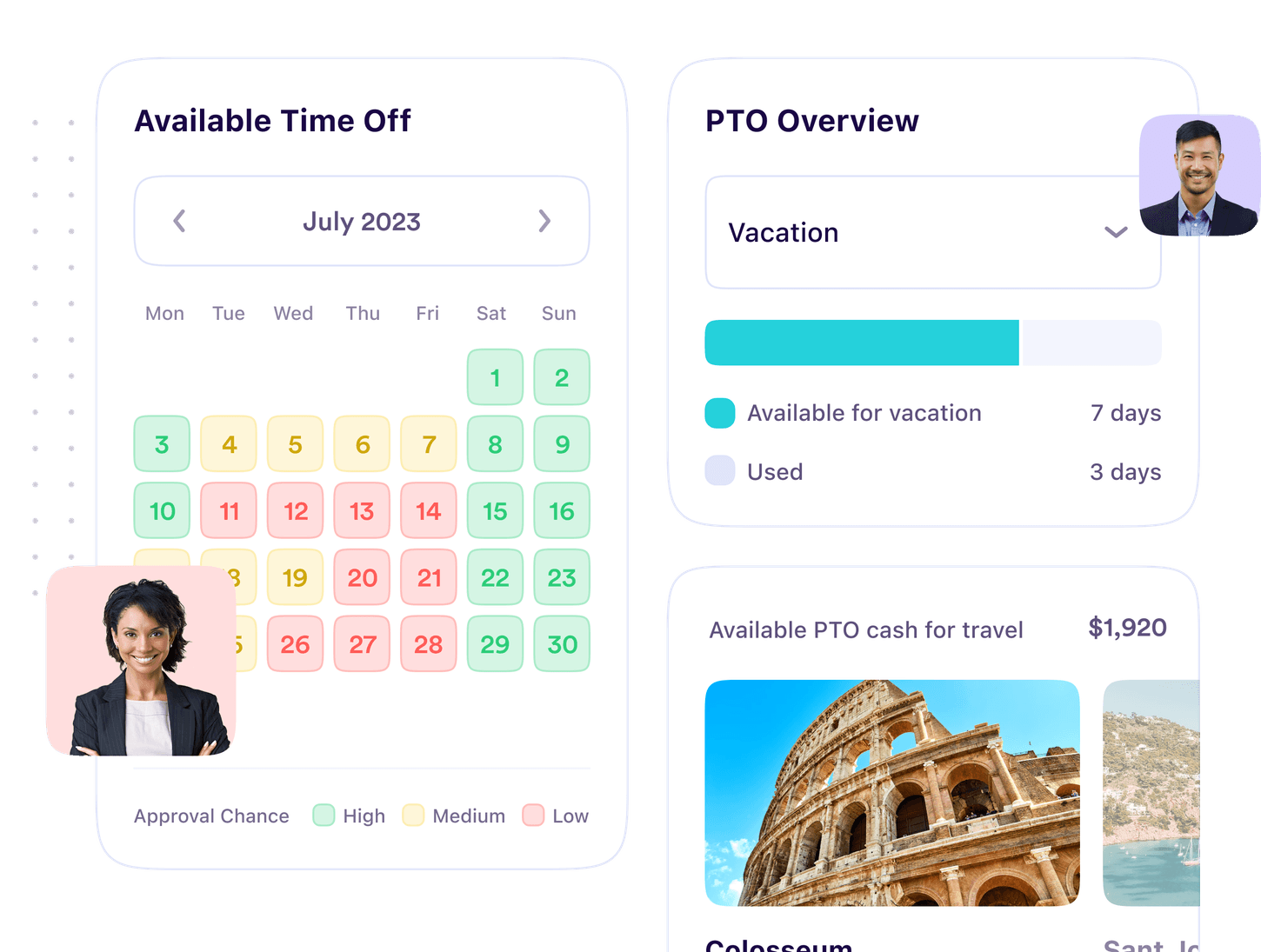 Experience the Future of Time Off, Today
See how PTO Genius saves you time and money while preventing burnout and compliance issues. Try our next-generation time off tracking, automation, and compliance platform for free today.
Sign Up For Free