PTO Donation
PTO Donation and Leave Sharing Made Simple and Easy
Empower your employees to help each other by donating their unused leave to teammates in need.
PTO Genius is so good! Employees are taking more time off, managers have better visibility, finance is happy, and I'm doing less work.

Judith Keating
Director of Human Resources City of New Bedford, MA

Boost Morale and Build A Positive Culture
PTO donation can be a great way to boost morale and build company culture by empowering employees to help coworkers who have been affected a medical emergency or a natural disaster.
Reduce Stress
Alleviate your employees' stress by letting them draw on additional paid time off when they need it the most.
Save Time
Set up leave donation with no extra work thanks to our platform's automations, workflows, and expert service.
Build Culture
Nurture a company culture of generosity and mutual support with a voluntary leave sharing or PTO donation program.
Ensure Compliance
Our team of PTO geniuses keeps your leave donation program compliant with labor, finance and tax laws.
How Leave Donation Works
PTO donation with PTO Genius is quick to implement, simple to use, and easy to manage.
1
Self-direct
Your employee chooses how much PTO to donate to your donation bank and can suggest a specific co-worker in need.
2
Donation processing
We calculate, convert and approve/deny the donated hours based on your donation guidelines and federal laws.
3
Transfer and update
We transfer the donated PTO your leave bank or route it to a specific employee in need, and update your HRIS.
Save Time, Money and Headaches
Easy to Get Started, Easier to Manage
Get started with PTO donation quickly through our automated PTO conversion platform.
Just tell us about the PTO donation program you want to establish, and we'll handle the rest.
Automations, workflows, integrations and white-glove service save you time and effort by eliminating the work of managing leave donations.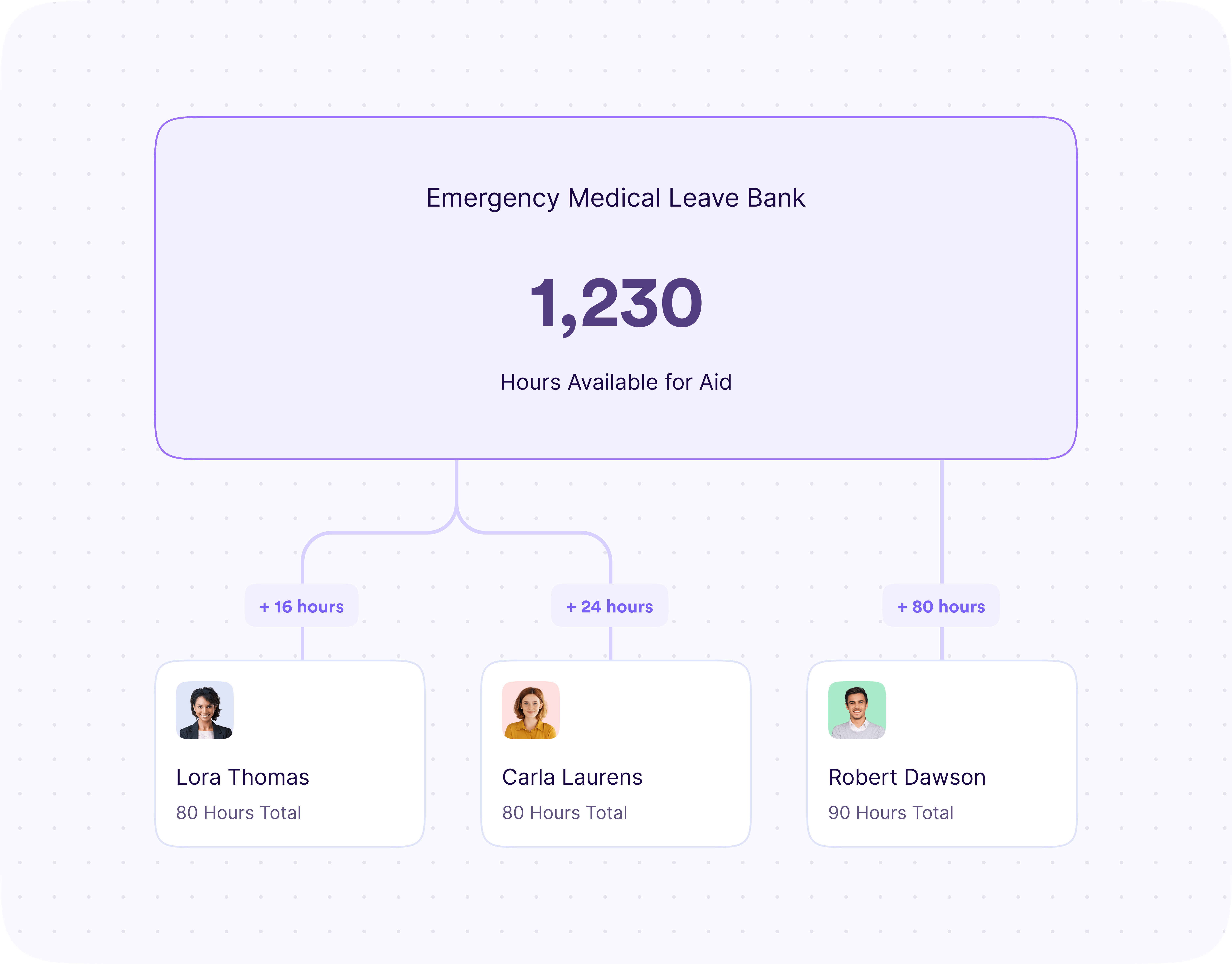 PTO Donation Made Easy
We Do All of the Work and Keep You Compliant
PTO Genius handles all of the work of receiving, processing, and handling PTO donations through our automated time off platform.
Our team of PTO experts ensures that your leave donation program stays in compliance with all relevant labor and tax laws.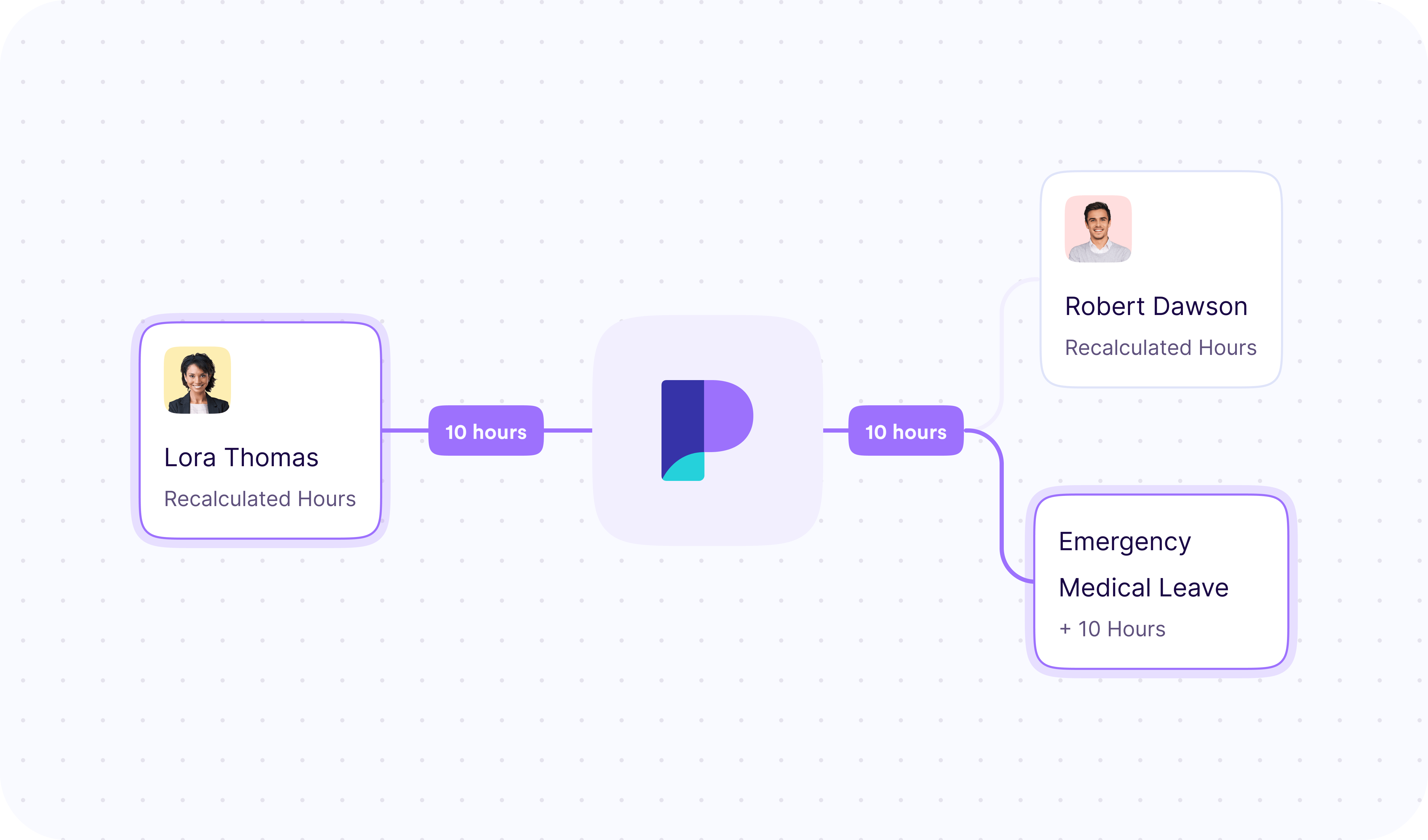 PTO Donation Benefits
Foster a Culture of Generosity and Support
The Internal Revenue Service allows leave donations without impacting the donor in cases of medical emergencies and natural disasters: both situations in which your employees need support from their teammates more than ever.
Setting up a PTO donation program with PTO Genius helps you build a company culture of generosity and support, without adding additional work and headaches to HR's already-full plate.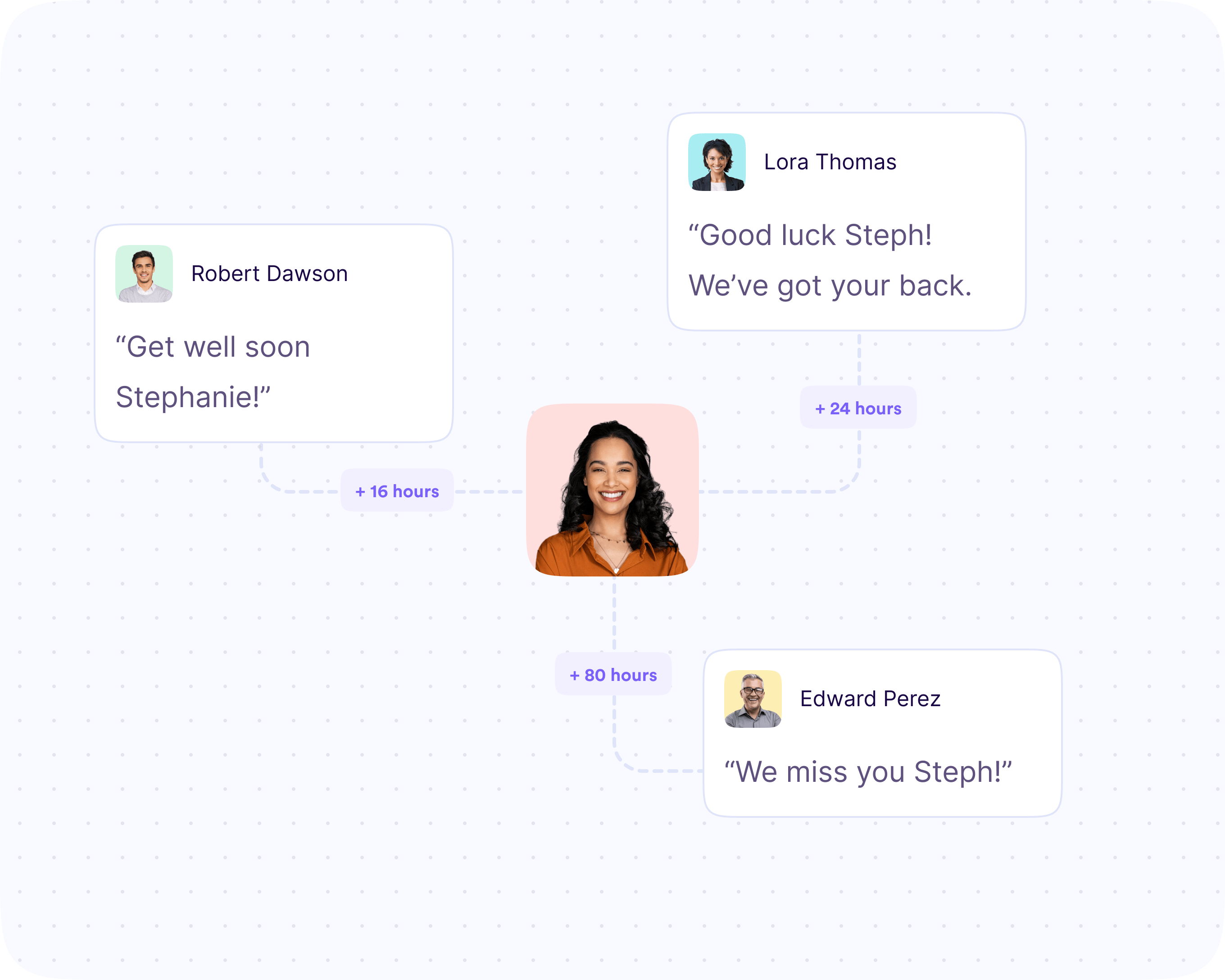 Fast, Personalized Implementation
We tailor our platform and your experience to your PTO policies, technical resources, and HRIS.
1 - 2 weeks
Low Integration
Best for companies with limited API functionality in their HRIS.
Partial integration with your HRIS

Near-time reporting and insights

Quick start, low effort
4 - 12 weeks
Full Integration
Best for companies that want the full capabilities and benefits of PTO Genius.
Full API integration with your HRIS

Bidirectional syncing and updating

Real-time reporting and insights
What You Need to Know About PTO Donation
Here are the most frequently asked questions we hear about PTO conversion and PTO Genius.

Have more questions?

Our experts are always available to answer your questions about PTO conversion, compliance, and the future of employee wellness.

Judith Keating
Director of Human Resources, City of New Bedford, MA
I'm impressed with the PTO Genius platform and what it can do for organizations. This is the wave of the future for PTO that every HR leader should be using.

Lindy B. Smiley
Global Head of Human Resources, Starwood Properties
PTO Genius is a great way for organizations to show employees that they care about their mental and financial wellbeing.

JoAnne Berrier
Director of Benefits, Hard Rock Hotel & Casino
The PTO Genius platform is a powerful way to help reduce employee burnout and improve mental wellbeing.

Aaron Ziff
Enterprise Director, Digital & IT (HR and EHS), Parker Hannifin
Having evaluated countless software solutions as a consultant and HR technology executive for multiple Fortune 500 organizations, PTO Genius really earns its name.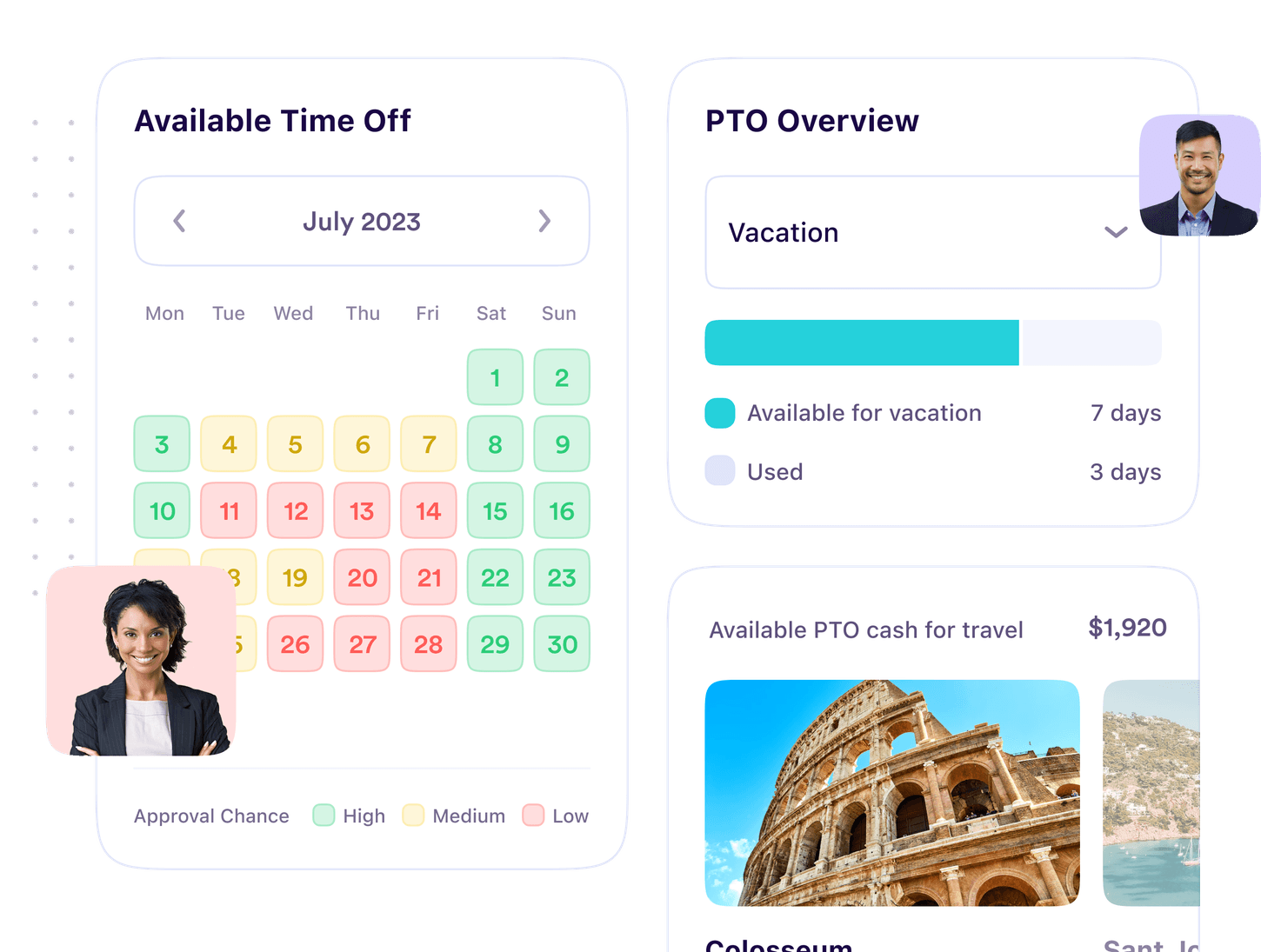 Build Your Personalized PTO Donation Program
Want to know more about PTO donation? Ready to start building your own leave donation program?

Sign up for free, or get in touch with our experts to learn more about PTO donation and our platform.
Sign Up For Free